Wine in Cans - Wine not?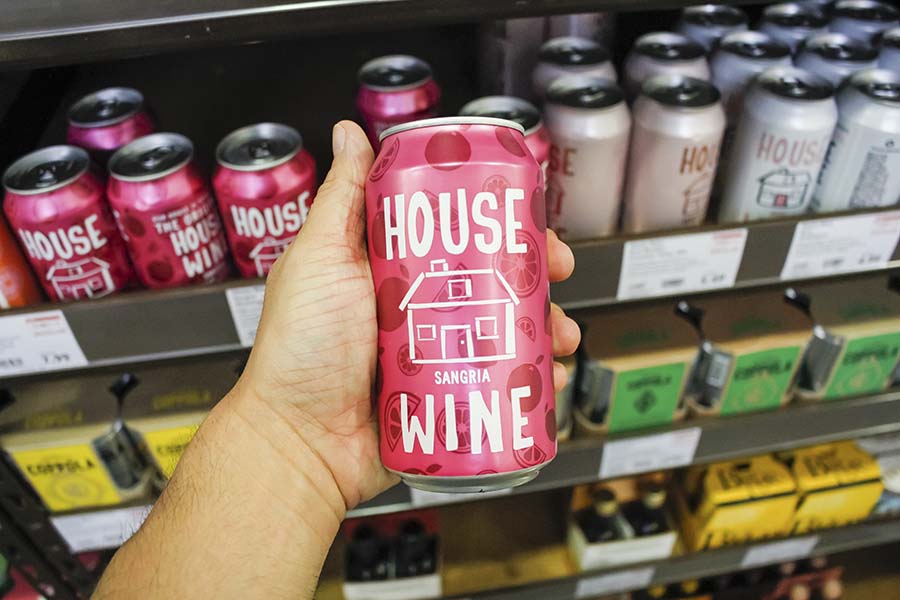 By Dani Bellmer, FAPC Food Engineer
When visiting your local liquor store, it's hard to miss the newest selection of packaging options for wine, which now is available in cans. Canned wine has gained popularity during the past several years, and the product options in that category have grown tremendously. Four of the five largest wineries now produce wine in a can.
While traditional wine sales have seen relatively slow growth in recent years, canned wine has had remarkable growth, increasing from about $6 million in 2016 to more than $180 million in 2020.
So, what is driving the interest in this new package option? Several different motivations may exist, including convenience, portion control and a desire for greater sustainability.
One huge motivation for canned wine is convenience. The different occasions wine can be consumed increases vastly when packaged in cans, including picnics, parks, beaches and outdoor concerts, where glass traditionally is not allowed. Canned wine even fits nicely into a golf bag. In addition, there is no need for a corkscrew or even a glass. Wine in cans now is being offered at concerts and many sporting events, where its glass bottled counterpart has not been allowed.
According to some sources, one of the original motivations for winemaker Francis Ford Coppolla to create his original Sofia wine in a can in the early 2000s was to serve wine at his daughter's poolside wedding venue. The portability and convenience of canned wine allows great opportunity for occasion expansion of the product, creating a completely new market for winemakers.
The opportunity for portion control also is also attractive in canned wine. A traditional bottle of wine is 750 milliliters, which is four to five servings. Once a bottle is opened, most people are inclined to finish it the same day. Wine in cans makes it easier to have just one glass.
Wine cans are available in several different sizes, including 175-milliliter single servings typically sold in four-packs, as well as 250- and 375-milliliter cans. If you and your partner like different kinds of wine, you no longer have to open two different bottles, you can each drink single serving cans of your choosing. In addition, if you want to try something new, you only have to waste one serving of something you don't like. Portion control also makes it easier for restaurants to provide single servings of wine and minimize waste from open wine bottles.
Many consumers also are attracted to the eco-friendly feature of canned wine. Aluminum is 100% recyclable, so its carbon footprint is lower than glass. Aluminum is cheaper and weighs less than glass, so shipping costs are lower for canned wine, along with the reduced emissions associated with shipping. The perceived value of greater sustainability often is associated with millennials, who represent a big market for canned wine.
Another factor in the recent growth in canned wine is related to developments in the lining that coats the inside of aluminum cans. The epoxy resin lining is required to prevent the wine from interacting with the aluminum, creating off-flavors. Not all wines are suitable for packaging in cans, as they must meet acceptable corrosion parameters related to pH, alcohol content and other chemical properties. The original globally recognized, patented can lining was the Vinsafe coating technology developed by an Australian winery in 1996. Since then, Ball, a U.S. corporation, has developed its own proprietary coating technology, which has expanded the number of canners entering the U.S. canned wine market.
A related driver for increased canned wine sales is the development of the mobile canning market, which has grown during the past decade in response to the craft beer boom. Wineries likely do not have the equipment required for canning, so the added cost of a canning line could be prohibitive. Mobile canning operations that come directly to the winery provide an opportunity to try wine in cans without the risk associated with a large capital expense.
So, how does the flavor and quality of canned wine compare to traditional bottled wine?
Winemaking has changed in recent decades to favor wines that are aged relatively quickly in stainless steel vessels rather than in the more traditional oak barrels. This allows winemakers to bring wine to market quickly, but it often results in wines that do not have the complex flavors developed from the long barrel aging process. These wines are not meant to be stored for years, as they will not grow in complexity as they age and are intended to have a relatively short shelf life. These wines do well as canned wines, where convenience and accessibility are prized characteristics.
Early canned wine sales focused mostly on sparkling wines, white wines and Rosé wines, but more variety is available today. Product reviews have been positive, and more than a dozen canned wine products scored "very good" on Wine Spectator's rating scale in blind tastings.
What does the future of wine look like? Most winemakers do not see cans replacing the bottled wine market. Rather, they see two separate paths for growth: one for the traditionalists who prefer the experience of pouring wine into a glass and enjoying its complex aroma and flavor, and one for those experiencing wine in more outdoor and relaxed settings.
Wine in a can is viewed as a way to attract a new audience of wine drinkers that prefer the more convenient package. The new goal may be to focus on marketing canned wine to specific occasions rather than to specific demographics.
References:
Weed, A. (2020). Canned Wine Sales are Bursting at the Seams. Wine Spectator Aug 3, 2020.
Williams, H.A. (2019). Growth of the Wine-In-A-Can Market. Texas Wine Marketing Research Institute.
Carter, D. L. (2018). Can wine be enjoyed from a can? Rochester Business Journal, 34(14), 1-1,8.