Top 10 Tips for Building Effective Websites
Thursday, October 15, 2020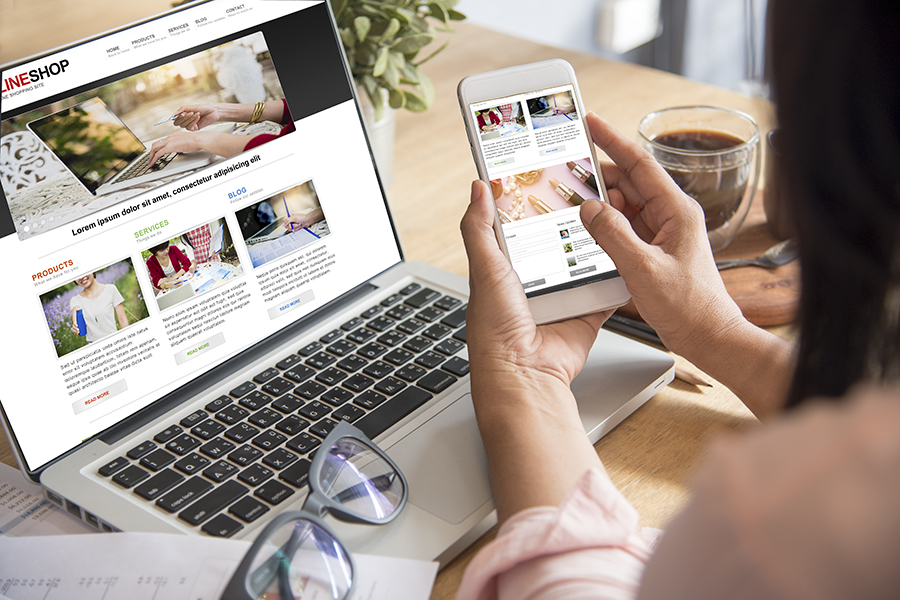 By Mandy Gross, FAPC Communications Services Manager
During my 20-year experience in the communications field, I've seen a number of changes to the industry. From graphic design to photography to social media, each area has changed over time with new technology, techniques and algorithms. One area that has changed tremendously is the building of effective websites.
The first website was said to be published on the World Wide Web in 1981. However, the Internet was born in the 1960s and was used by the military, scientists, educators, doctors and the government for transferring information from one computer to another. In the 1990s, Mosaic, a free browser program, was introduced as the first commercial browser that allowed the public to access online content.
Websites have transformed from lots of text, limited color and graphics with a linear layout to the creation of new codes and languages that have turned websites into what they are today – a vital part of business growth.
One of my responsibilities is to oversee the web presence for the Oklahoma State University Robert M. Kerr Food and Agricultural Products Center. Since being hired at FAPC in 2002, I have managed four web redesign projects. We have transitioned to using different platforms throughout the years, from Dreamweaver to Plone to Omni Update, each changing the way we communicate information on the web.
On the cusp of launching FAPC's latest website redesign, I wanted to share my top 10 list for building effective websites. I hope these tips can help companies as they are developing or redesigning their websites.
Make your site mobile responsive. More than 50% of website traffic comes from a mobile device, and 90% of shoppers use their smartphones while in stores. In addition, 40% of consumers will go to a competitor if they have a bad experience with a mobile site. However, it is not enough just to have a mobile responsive site. Users must be able to easily navigate the content, so it is important to check your site on all devices from a desktop computer to a mobile phone and also on multiple browsers.
Make your site easy to find. Pick and use a domain name that makes sense. This could be the company name or words that describe a business. Site owners can purchase multiple domains that point to one site. For example, you can purchase a .com, .biz and .org domain and redirect each domain to the same site. Also, have you ever researched how people get to your website? The majority of users will use an internet browser to search for information with keywords. For sites to show up high in relevant searches, they must have effective search engine optimization or SEO. Some of the ways you can improve a site's SEO is to have relevant content and update that content regularly, add metadata (page titles, descriptions and keywords) to every page and use alt text for images.
Add contact information. One of my biggest pet peeves is when I visit a website, and I cannot find any contact information. Make sure you have a phone number and email address listed on the site, as well as a business location if you have one, and the information is easy to find. Some sites incorporate a contact form within a page, which is fine, but make sure you also have direct contact information. Plus, it's important to add social media icons to either the header or footer of your site, and link those icons to your business social media accounts.
Make it easy to navigate. The top-level navigation should include a site's main links and be limited to about five topics. Related pages that need their own link can be listed underneath in a sub-menu or linked from main pages. Because using a keyword search can take readers to a page other than the homepage, it is vital users easily can get to the home page from other pages on the site.
Keep pages uncluttered. Too much information can overwhelm the mind, so don't overload a web page. Readers need to put information in context. A balance of text and graphics helps readers focus on the information. The saying, "A picture is worth a thousand words," is relevant for websites, but including videos also is important. Videos keep people on a website longer and engage them with the content. Videos are a fast and convenient way to tell your story or engage potential customers.
Make sure the information is accurate. Mistakes on your website will turn off consumers. Whether it is a wrong phone number or email address, outdated product information or grammatical errors, mistakes are bad for a brand. Proofread. Proofread. Proofread. Carefully read each page before it goes live, and check pages periodically, especially when making updates.
Make sure it loads quickly. Slow websites cause a negative reaction to a brand or company. Consumers will go to another site if a website takes too long to load. To help maximize the performance of a website, keep software updated, optimize videos and images for quicker downloads and use a website host that can handle your bandwidth demands.
Have a call to action. Each web page should entice the reader to do something. Whether it is to call a phone number, sign up for a newsletter or promotion, buy a product or go to another page on the site, show the reader what you want them to do next. Be clear on your call to action by using descriptors such as a button, link or verbiage.
Keep your design simple. Limit the use of fonts, colors and animated gifs. Too many elements can distract the reader and pull them away from the focus of your page. Use short paragraphs and bullet points to make the page scannable and easier to read.
Make it personable. You want to create a high-quality experience for your users but also promote your brand. The "About" section should not be just about the company; make it about you and your team. Tell your story and be creative. Engage your readers by showing them you are a real person.